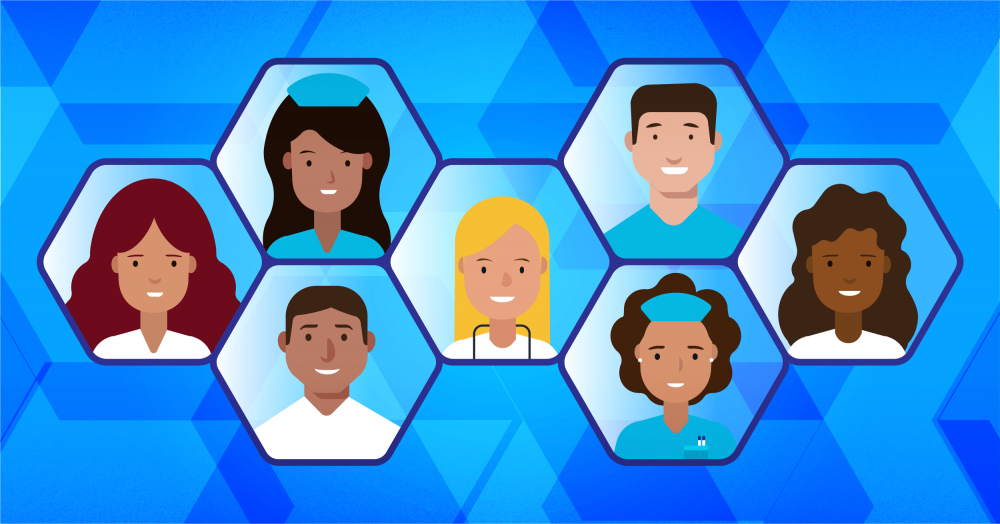 Times of emergency naturally put long-term concerns on the back burner. Yet in the wake of the coronavirus pandemic there is no better time for individuals, communities, and societies to begin preparing for the inevitable health crises of the future. In particular, students who are considering a career in nursing need help to sort through the many types of nursing degrees, specialties, and opportunities.
For nurses and students who aspire to leadership roles in the field, the many different paths to a career as a nurse practitioner or in health administration can be overwhelming. This guide will help students distinguish the characteristics of various nursing degree programs and certificates, including a Master of Science in Nursing and a Master of Health Administration. These and other nursing degrees and certificates prepare graduates for specific career paths, professional opportunities, and salaries.
Which Nursing Degree Is Right for Me?
After deciding to pursue a nursing career, a student's first question is, Which nursing degree is right for me? The three categories of nurses most people are familiar with are licensed practical nurse (also called licensed vocational nurse), registered nurse, and advanced practice registered nurse, a category that includes nurse practitioners.
Licensed practical nurses (LPNs) typically complete a one-year training program that includes courses in anatomy, pharmacology, practical nursing, pediatric nursing, care of older adults, and maternity.
Registered nurses may earn a two-year associate degree, three-year Diploma of Nursing, or four-year Bachelor of Science (BSN) degree. The RN curriculum covers topics such as care for children and older adults, dosage calculation, nurse informatics, health assessment, and community health nursing.
Advanced practice registered nurses (APRNs) typically earn a Master of Science (MSN) degree after gaining one to three years of practical nursing experience. Many earn a Doctor of Nursing Practice (DNP) degree. Nurse practitioners (NPs) are APRNs, though not all APRNs are NPs. The NP curriculum features courses in advanced pathophysiology, advanced clinical pharmacology, advanced health assessment, and community-based nursing. Nurse administrator courses include concepts in nursing leadership, nursing informatics, nursing theory, and scientific inquiry for evidence-based practice.
Within these three broad categories of nurses are dozens of nursing specialties that encompass all areas and aspects of health care.
Staff nurses are also referred to as bedside nurses. They work directly with patients in all nursing units and perform a variety of tasks, including dispensing medication. Some staff nurses work as generalists, while others specialize in an area of care.
Charge nurses and shift managers perform the tasks of shift nurses and also manage nursing shifts, including nurse scheduling and managing on-call rosters.
Nurse managers and nurse supervisors are responsible for patient care and the efficient 24/7 operation of one or more nursing units. They oversee scheduling, set and manage the budget, and work with doctors and other staff to coordinate the unit's operation.
Advanced practice registered nurses have earned an MSN or DNP degree. Some manage teams of nursing staff members, and others become nurse anesthetists, nurse midwives, certified nurse practitioners, or clinical nurse specialists.
Nurse practitioners specialize in such areas as adult-geriatric, pediatric, family, psychiatric mental health, and women's health. They diagnose and treat health conditions, prescribe medication, and order and interpret diagnostic tests, among other duties.
Directors of nursing lead the administration of one or more nursing departments. They have earned at least a master's degree and often a DNP degree. Many specialize in a particular department, such as oncology or mental health. They are responsible for the department budget and all clinical services.
Chief nursing officers (CNOs) or chief nursing executives (CNEs) are the highest-level positions in nursing. They report directly to the chief executive officer (CEO) of the organization, are charged with strategic planning, and oversee all administrative nursing positions. They generally have years of nursing experience and at least an MSN degree.
What Is Required to Earn an MSN Degree?
The American Association of Colleges of Nursing (AACN) explains the three most common paths to earning an MSN degree:
Entry-level MSN degrees are designed for people with a bachelor's degree or a master's degree in a nonnursing discipline. They are also called generic or accelerated programs; the bachelor's curriculum and RN certification are finished in the first year.
RN to MSN degrees are intended for nurses who have an associate degree. Courses from the bachelor's curriculum are taught in the first year or two, depending on the degree program.
Bachelor's to MSN degrees build on the competencies that nurses have developed in their undergraduate nursing studies, allowing students to focus on specific areas of health care.
Key health care roles filled by MSN graduates include clinical nurse leaders, nurse administrators, nurse educators, public health nurses, and nurse informaticists.
What Is Required to Enter a BSN to DNP or MSN to DNP Program?
Increasing the number of nurses who have earned a DNP degree is seen as paramount to addressing the critical shortage of nurse educators, advanced clinicians, and nurse leaders. Nurses with DNP degrees work to improve patient outcomes by converting research advances into clinical practice.
The DNP degree is perceived as the practice-focused graduate degree for nurses, while the PhD in nursing is generally seen as the research-focused doctorate degree for nurses. The purpose of DNP programs is to prepare graduates for advanced nursing practice in many different specialties, according to the AACN. To qualify for BSN to DNP and MSN to DNP programs, RNs must be prepared to diagnose and manage acute and chronic illnesses, prescribe medication, order diagnostic tests, and perform minor procedures.
What Is Required to Earn an MHA Degree?
The Commission on Accreditation of Healthcare Management Education (CAHME) states that a master's degree is an "essential first step toward an executive or managerial career in most health care organizations." The Master of Health Administration (MHA) degree teaches the business and administrative skills required to succeed in a range of health care leadership positions.
MHA programs differ from Master of Public Administration (MPA) degree programs by emphasizing the business aspects of health care management; MPA programs focus on health-related science and research topics. MHA graduates typically lead teams of health care workers. Key skills for the role include leadership, communication, and decision-making.
Master of Science in Nursing (MSN)
In recent years, education levels have increased throughout the nursing profession, according to U.S. News & World Report. A primary benefit of earning an MSN degree is the opportunity to learn advanced skills that increase job opportunities, leadership roles, and career and salary potential.
The Balance Careers explains that RNs who have earned a three-year Diploma of Nursing or an associate degree may apply to a BSN or MSN degree program. RNs generally specialize in one clinical practice area, such as pediatrics, geriatrics, oncology, cardiology, or obstetrics. These are among the NP specialties pursued by MSN graduates:
Adult-Geriatric Nurse Practitioner (AGNP)
The two categories of adult-gerontology nurse practitioners are acute and primary:
Acute care AGNPs treat patients who have complex, acute conditions that are generally treated in ICUs, trauma, or acute care units, as the AANP explains.
Primary care AGNPs diagnose and manage acute and chronic medical conditions, emphasizing prevention and healthy lifestyles for their patients, according to the AANP. They commonly work in clinical settings where they order diagnostic tests, prescribe medication, and collaborate with other health professionals to manage their patients' needs.
Adult-geriatric nurse practitioners possess the skills and training to treat and prevent age-related illnesses including arthritis, memory loss, and metabolic syndrome. AGNPs counsel their patients on healthy living habits, perform health risk assessments, and conduct immunization and screening tests. Typical work settings for AGNPs include community clinics and inpatient facilities, as well as private practice, as The Gypsy Nurse explains. They emphasize disease prevention and treatment of chronic illnesses.
Conversely, the adult-gerontology acute care nurse practitioners (AGACNP) serve the advanced nursing care needs of adult, older adult, and elderly patients who have acute, chronic, and critical illnesses. They are distinguished from AGNPs who provide primary care to promote healthy practices and preventive measures. AGACNPs often work in clinics, hospitals, and convalescent centers where they offer advanced nursing care to treat critical conditions in their patients.
The median annual salary for AGNPs is about $90,000, according to PayScale data as of December 2019.
Family Nurse Practitioner (FNP)
Family nurse practitioners meet the health care needs of infants, children, adults, and the elderly. The American Association of Nurse Practitioners (AANP) describes the many duties of FNPs, which include conducting physical exams, prescribing medication, maintaining patient records, and developing treatment plans. FNPs are trained to treat all acute and chronic illnesses, conditions, and injuries that fall under primary care.
Family nurse practitioners offer primary care in hospitals, other community health centers, private practice, universities, and health care systems. The median annual salary for FNPs is about $94,000, according to data from PayScale as of March 2020.
Pediatric Nurse Practitioner (PNP)
Pediatric nurse practitioners treat children from birth to young adulthood. They apply their experience and skills in pediatric care to provide well child care, and to address acute and chronic illnesses and conditions in children.
The National Association of Pediatric Nurse Practitioners highlights the critical shortage of PNPs in coming years. There are currently fewer than 50,000 primary care pediatricians in the U.S., which is far too few to meet the "increasingly demanding and complex needs of children," who account for about 25% of the population. The shortage is especially acute in underserved and rural areas.
Primary care PNPs are trained to meet the physiological and psychological needs of their young patients and to promote and maintain their health. Acute care PNPs work in interdisciplinary teams to plan and implement treatment for children with acute, complex, critical, and chronic illnesses in hospitals, ICUs, and other health care settings, as the Pediatric Nursing Certification Board explains.
Pediatric nurse practitioners work in pediatric offices, hospitals, clinics, and school health centers. The median annual salary of PNPs is about $90,000, according to data from PayScale as of March 2020.
Psychiatric Mental Health Nurse Practitioner (PMHNP)
The primary duty of psychiatric mental health nurse practitioners is to assess, diagnose, and treat mental health conditions in their patients. PMHNPs may prescribe medicine and provide therapy to treat mental health disorders and substance abuse problems, according to the AANP. They analyze their patients' physical and psychosocial conditions, offer emergency psychiatric care, and evaluate the effectiveness of treatments. PMHNPs work primarily in in-patient settings and in private practice; they treat children, adults, and the elderly.
Most psychiatric mental health nurse practitioners treat their patients in in-patient settings where they may work night shifts and be on call. The median annual salary for psychiatric nurse practitioners is about $106,000, according to data from PayScale as of March 2020.
Women's Health Nurse Practitioner (WHNP)
The two general categories of women's health nurse practitioners are those who work exclusively on reproductive, gynecological, and other women's health issues, and those who work with all adults and apply their skills and training in women's health only when they are required.
A study released by Doximity describes the shortage of physicians who specialize in obstetrics and gynecology as a significant factor in the current women's health crisis. Vice explains that the OB-GYN shortage is especially acute in Las Vegas, Salt Lake City, and Miami. However, the American College of Obstetricians and Gynecologists study on which the finding is based did not include rural areas, which often feel the greatest impact of any health care shortage.
Nurse Practitioners in Women's Health explains that the duties of WHNPs include evaluating patients' health by taking histories and performing examinations, ordering and interpreting the results of diagnostic tests, collaborating with patients and their families to create health care plans optimized to individuals, and promoting wellness by ordering screenings and prescribing preventive therapies.
Most women's health nurse practitioners work in clinical settings such as hospitals. They administer and assess the results of diagnostic tests, and counsel women on matters related to pregnancy and reproductive health. The median annual salary for WHNPs is about $91,000, according to data from PayScale as of March 2020.
Nurse Educator
Nurse educators work with health care administrators to plan and conduct continuing education for nursing staff, and evaluate nursing staff and caregivers. They deliver presentations and develop training manuals, policies, and procedures to be used in training and updating medical staff. The work often entails traveling to many different locations and interacting with a range of health care workers. The median annual salary for nurse educators is about $75,000, according to data from PayScale as of March 2020.
Master of Science in Nursing to Doctor of Nursing Practice (MSN to DNP)
The Doctor of Nursing Practice degree is a terminal degree for nurse practitioners. Schools affiliated with the AACN have endorsed a proposal to shift the preparation required for advanced nursing practice from a master's terminal degree to a doctorate level, although no final decision on this matter has been made. The change is intended to ensure NPs are prepared "to be accountable for health promotion" and to manage patients with "undifferentiated problems" as well as those with "acute, complex chronic, and/or critical illness."
The DNP terminal degree puts nurse leaders on the same education level as licensed independent practitioners (LIPs) such as podiatrists, optometrists, and psychologists. The AANP lists the considerations in choosing an MSN to DNP program:
The student's preferred population focus or concentration (family, adult, pediatrics, women's health, etc.)
The qualifications and prerequisites for entering the program
The program's accreditation and graduate certification rate
The benefits of earning a DNP degree include practicing autonomously in collaboration with other health care professionals, qualifying for health care leadership positions, and helping to promote and maintain the health of individuals, families, and communities.
The U.S. Bureau of Labor Statistics (BLS) Occupational Outlook Handbook forecasts tremendous job growth for NPs: The number of jobs for NPs is expected to increase by 26% between 2018 and 2028, which is much faster than the 5.3% average for all occupations.
Bachelor of Science in Nursing to Doctor of Nursing Practice (BSN to DNP)
BSN to DNP programs are designed to meet the needs of RNs who haven't yet earned their master's degree but aspire to leadership positions in nursing.
How Does a BSN to DNP Differ from an MSN to DNP?
A key difference between BSN to DNP and MSN to DNP programs is the length of time required to complete them. Daily Nurse estimates that a BSN to DNP program will require three to four years to complete. For general DNPs, an MSN to DNP program typically takes one to two years to finish, although specialty DNP programs may take up to three years to complete. BSN to DNP programs take longer because they need to cover subjects taught by MSN degree programs. Lack of faculty, high costs, a shortage of clinical sites, and difficulty in finding the necessary resources make it challenging for schools to offer BSN to DNP programs, according to the AACN.
Who Are the Programs Intended For?
To qualify for an NP program, nurses who currently have a BSN may need to take additional courses in statistics, anatomy and physiology, chemistry, nutrition, and psychology, as NursingLicensure.org explains. Nurses who wish to enter specific NP programs, such as family NP or women's health NP programs, will be expected to have at least two years of work experience with the program's target population. However, primary care specialties may require less direct experience with patient care.
Career Paths for BSN to DNP and MSN to DNP Specializations
The choice of DNP program determines the optimal curriculum for each student. For example, DNP students, whether they have a BSN or MSN, will study evidence-based practice, theoretical concepts relating to APRNs, and management skills for planning, evaluation, and leadership. NP specializations may require courses in such subjects as advanced pharmacology, advanced physiology, or health assessment.
DNP students are required to complete a project that demonstrates their ability to identify issues and concerns in their health care speciality from an evidence-based perspective that focuses on improving patient care and enhancing health outcomes. A major benefit of BSN to DNP programs is that they can enable nurses to progress directly from bedside care to NP specialties and nurse leadership positions.

Nursing Certificate Programs
Nurse practitioners who earn advanced degrees will be prepared to pursue certification in a variety of specializations. Various certificate boards have created nurse certificate programs for many different NP specialties. Advanced nursing degrees help nurse practitioners develop the knowledge and skills they will need to earn certifications that enhance their qualifications for health care leadership positions.
American Nurses Credentialing Center
The American Nurses Credentialing Center (ANCC) works with the American Association of Nurse Practitioners (AANP) to offer NP certifications that include Family Nurse Practitioner, Adult-Gerontology Primary Care Nurse Practitioner, Adult-Gerontology Acute Care Nurse Practitioner, and Psychiatric Mental Health Nurse Practitioner. The organization's Certification Policies page explains the requirements for NP certification and offers a General Testing and Renewal Handbook for NPs seeking certification or recertification.
Pediatric Nursing Certification Board
The two NP certifications provided by the Pediatric Nursing Certification Board are Certified Pediatric Nurse Practitioner — Primary Care (CPNP-PC) and Certified Pediatric Nurse Practitioner — Acute Care (CPNP-AC). Examinations for both require MSN and DNP graduates to demonstrate the skills and knowledge they will need for careers as pediatric NPs.
National Certification Corporation
Two NP certifications are issued by the National Certification Corporation. The Neonatal NP Core Certification (NNP-BC) tests the knowledge and skills of MSN and DNP graduates who seek to offer care to acutely and critically ill neonatal patients and their families in hospital and outpatient settings. The NCC's Women's Health Care NP Core Certification (WHNP-CC) is designed to ensure that MSN and DNP graduates who wish to become WHNPs can provide obstetrical, gynecological, and primary care to women in hospitals and outpatient clinics.
Master of Health Administration (MHA)
The Master of Health Administration degree allows nurses to learn advanced skills and pursue a range of careers in health administration. Despite moving away from bedside care, nurse administrators impact the quality of care patients receive in clinics and hospitals through the policies and decisions they make in health administrative roles.
Master's degrees are now the preferred degree for medical and health services manager candidates. Key topics covered in an MHA curriculum include health policy, quality care management, health care economics, and health information systems. These and other courses are designed to prepare graduates for diverse job opportunities in health care management.
Hospital Administrator
Hospital administrators plan and coordinate the provision of health care services in clinics, departments, and entire facilities. They are responsible for ensuring compliance with the laws, regulations, and technologies related to the health care services they provide, as the BLS explains. Median annual pay for medical and health services managers working in hospitals was $108,730 as of May 2018, according to the BLS. Master's degrees have become a requirement for many employers; preferred degrees include health administration, health management, nursing, and public health.
The American Organization for Nursing Leadership lists the skills and background required to qualify for nurse administrator positions in hospitals and other health care settings:
Financial management
Human resources management
Clinical practice knowledge
Personal and professional accountability
Information technology
Strategic management
Hospital CEO
Changes in the health care industry have made the job of hospital chief executive officer "exponentially more difficult," according to the BoardEffect blog. Tight profit margins, strict government regulations, and a widespread shortage of qualified health care workers are among the challenges CEOs are charged with meeting. Clinical Orthopaedics and Related Research reports the results of a survey that found nonprofit medical center CEO salaries increased 93% between 2005 and 2015 to an inflation-adjusted average of $3.1 million.
The American College of Healthcare Executives reports that hospital CEO turnover was 18% in 2018, which marked the first period of five consecutive years of elevated turnover since the 1980s. Reasons for the high hospital CEO turnover rate include widespread restructuring in the health care industry, CEOs moving to other positions in health care, and CEOs reaching retirement age.
Nursing Home Administrator
Duties of nursing home administrators include care of facility residents and management of employees, patient admissions, finances, and maintenance, according to the BLS. Nursing home administrators are licensed by each state and are responsible for responding to changes in health care laws, regulations, and technologies. They are charged with developing and managing the facility's budget and overseeing its financial resources.
The median annual salary of nursing home administrators is about $90,000, according to data from PayScale as of March 2020.
Chief Nursing Officer
Chief nursing officers are responsible for all patient care in nursing and clinical departments, including medical-surgical, cardiac, emergency, acute/critical care, pharmacy, radiology, and case management. A survey conducted by AMN Healthcare found that CNOs have roles that are increasingly metric driven, they have taken on new responsibilities, and they increasingly focus on strategic planning to meet the organization's financial goals. A key skill of CNOs is the ability to communicate and build relationships. They have a direct impact on the quality of patient care and the efficient deployment of nursing resources.
The median annual salary of CNOs is about $128,000, according to data from PayScale as of March 2020.
The career options and professional possibilities available to nurses with advanced degrees are matched only by the skyrocketing demand for the care and treatment RNs and advanced practice nurses offer their patients. Few professions are as challenging or as rewarding as nursing, and fewer still offer greater benefits to communities in need of relief from health care crises.
Additional Sources:
Allheart, "Types of Nurses: All Nursing Titles and Rankings You Need to Know"
American Association of Nurse Practitioners, NP Certification
American Nurses Association, Our Certifications
Association of American Medical Colleges, "Physician Supply and Demand Through 2032"
Center for Health Journalism, "Can Nurse Practitioners Solve the Nation's Primary Care Shortage?"
Health Affairs, "Implications of the Rapid Growth of the Nurse Practitioner Workforce in the US"
Healthline, "25 Types of Nurses"
Medical News Today, "What Can I Expect from a Nursing Career?"
Medscape, Medscape APRN Compensation Report 2019
Modern Healthcare, "Nurse Practitioner Workforce Doubles amid Primary Care Push"
National Certification Corporation
National League for Nursing, Certification for Nurse Educators
PayScale, Average Adult-Gerontology Nurse Practitioner Salary
PayScale, Average Clinical Nurse Specialist (CNS) Salary
PayScale, Average Family Nurse Practitioner (NP) Salary
PayScale, Average Nurse Educator Salary
PayScale, Average Nursing Informatics Specialist Salary
PayScale, Average Pediatric Nurse Practitioner Salary
PayScale, Average Psychiatric Nurse Practitioner (NP) Salary
PayScale, Average Women's Health Nurse Practitioner (NP) Salary
PayScale, Doctor of Nursing Practice (DNP) Degree
PayScale, Master of Science in Nursing (MSN) Salaries
U.S. Bureau of Labor Statistics, Nursing Instructors and Teachers, Postsecondary
U.S. Bureau of Labor Statistics Occupational Outlook Handbook, Medical and Health Services Managers
U.S. National Library of Medicine MedLinePlus, Nurse Practitioner (NP)
U.S. News & World Report, "A Guide to the Various Nursing Degrees and Licenses"
Verywell Health, "Average Nurse Salaries by Type of Nursing Career and Role"
Verywell Health, "Role of an Advanced Practice Nurse"