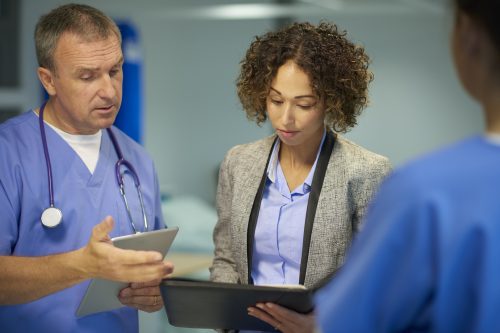 American health care organizations are working quickly to expand their workforce. Employment in the industry is expected to increase by 18 percent between 2016 and 2026, by which point 2.4 million new workers will have entered the industry, according to research from the U.S. Bureau of Labor Statistics. There are numerous career pathways in health care, but many people entering or moving upward in the field are gravitating toward public health — and for good reason. In this field, health care professionals at all levels have the opportunity to impact large numbers of patients, many of whom struggle to access proper medical care.
For instance, low-income Americans are more likely to develop noncommunicable conditions such as coronary heart disease, ischemic heart disease, and diabetes than those in higher tax brackets, according to the Centers for Disease Control and Prevention. Public health professionals work to address such disparities through research, medical intervention, and public policy development.
That said, succeeding in the public health sphere requires commitment, passion, and special skills. Aspiring public health professionals can obtain the latter through a graduate degree, and biostatistics and public health management are among the most popular specialties associated with the field. While both can lay the groundwork for sustainable success, they each center on unique knowledge and experience, and prepare students for different roles.
Understanding biostatistics
Modern biostatisticians work in academic, government, and nonprofit institutions, leveraging their data collection and analysis skills to search for patterns in public health outcomes. This work requires some health care experience. However, most are mathematical specialists who hold undergraduate or perhaps even graduate degrees in statistics. Overall, biostatisticians have an immense impact on public health work, lending administrative leaders and on-the-ground medical teams the data-backed evidence they need to effectively address health care disparities. The median salary for U.S.-based biostatisticians is more than $146,000, according to recent data from the American Statistical Association. 
Understanding public health policy management and epidemiology
Health care professionals in the health public policy field occupy three of the CDC's four domains of chronic disease prevention:
Data collection and analysis through epidemiological study
The promotion of positive health behaviors
Heath care system-based intervention
Community health-centric intervention
The organizations and individuals specializing in public health policy and management are tasked with overseeing the programs associated with the final three domains on this list. For example, groups such as the World Health Organization devote considerable resources to developing education initiatives aimed at reducing negative health outcomes among portions of the global population struggling to access effective medical care. Some of this guidance is delivered directly to patients, while other recommendations are communicated to government officials who can effect more widespread change. In 2016, the WHO managed to connect with government leaders in Africa and the Middle East and deliver amended best practices for marketing food and beverages to children. Approximately 19 percent of the parties contacted implemented the guidelines, greatly expanding WHO's impact in the area.
Public health organizations also collaborate with governments to improve health outcomes via existing health care infrastructure. In 2000, all United Nations member states agreed to participate in an international health care improvement effort aimed at helping achieve eight key objectives called the Millennium Development Goals by 2015. With the help of public health organizations across the globe, the U.N. and its members managed to leverage existing systems to reduce child mortality, increase vaccination coverage, and meaningfully combat HIV/AIDS. Similar work unfolds on a smaller scale as nonprofits and other groups work with community care clinics.
Talented health care stakeholders must spearhead these efforts, using clinical awareness, managerial knowledge, and leadership experience to ensure educational and tactical programs are successful. This work requires a vast skill set that encompasses everything from epidemiology to policy analysis. In short, individuals in public health management often carry more varied workloads than their peers in biostatistics. In most cases, public health management professionals develop their multifaceted skills through Master of Public Health programs, which tend to address a wide variety of issues related to serving large patient groups.
Some programs center on the managerial components of health policy and management, while others prepare students for more hands-on roles in epidemiology departments or other research-based divisions. For instance, professionals overseeing policy leverage analysis skills, economic and ethical awareness, operational expertise, and an in-depth understanding of the modern health care system to effect change from the top down. Some might work as medical and health service managers in organizations such as the WHO or manage public health initiatives in health systems and hospitals. On the other hand, public health management specialists in epidemiology take a more granular approach to helping patient populations. These individuals use advanced data collection and analysis competencies to lead medical research efforts in academic departments and nonprofits, functioning as field epidemiologists or epidemiological investigators.
Following graduation, fully credentialed MPH holders in both niches can earn salaries ranging from just over $98,000 for program directorships to more than $104,000 for executive roles, according to the BLS.
Selecting the right career pathway
Biostatistics and public health management subfields such as health policy management and epidemiology offer ample opportunity. The latter two trajectories can help passionate health care professionals make the most widespread impact.
Regis College's online MPH degree program allows students to gain the skills they need to find success in public health through an exhaustive curriculum that explores critical themes and topics, including biostatistics, health ethics, and public health administration. Additionally, Regis offers concentrations in epidemiology and health policy and management. The former instructional track explores niche epidemiological techniques and data collection and analysis methods, while the latter addresses high-level health care policy development and deployment strategies.
Contact Regis College today to learn more about the online MPH degree program.
Sources:
Bureau of Labor Statistics: Health Care Occupations
Centers for Disease Control and Prevention
American Statistical Association
Bureau of Labor Statistics: Medical and Health Services Managers